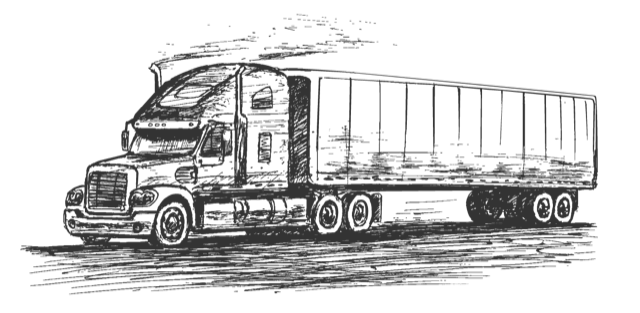 During our prebuy program, we offer 20% off soil prices to customers who order a full truckload. The full truckload discount is our best deal, and we encourage growers to think creatively about how they can take advantage of this offer. Consider partnering with other farms in your area to reach the full truckload minimum (20 pallets).
Scheduling and unloading a tractor trailer can be challenging, but it is our goal to make the process as easy as possible. We've outlined the requirements below to ensure that you are fully equipped to manage the delivery. Our trucking carriers may add additional fees if unloading is delayed because of missing equipment or unsafe conditions.
To receive a full truckload discount, you must:
Order between 20 and 24 pallets (not exceeding 42,000lbs--we will help you calculate the total weight).
Order and prepay for your soil/compost on one invoice by December 21st.
Schedule your order to ship before January 31st. Shipping rates will be calculated within 2 weeks of your ship date and must be paid before your order ships.
Have one point of contact for ordering and delivery.
Be patient and flexible. Shipping is not an exact science and there are many variables impacting deliveries. Because of increased trucking limitations and efforts to keep rates affordable, we sometimes have to take options that may be less than ideal. Delivery times cannot be guaranteed.
Delivery Location Requirements. You must:
Have a pallet jack. All full truckloads are "no touch delivery" and will be delivered via "dry van" enclosed tractor trailers. You will be responsible for moving each pallet to the back of the truck so that it can be lifted out by your equipment. Drivers do not assist.
Have at least one of the following: a tractor, loader, or skid steer with forks; a forklift; or a standard height loading dock.
Please Note: Liftgates are not available for full truckload shipments. We do not make deliveries via flatbeds.

Fort Light sling: 1,580 lbs
Perennial Blend sling: 1,740 lbs
Compost Plus sling: 1,780 lbs
Jolly Roger sling: 1,790 lbs
Fort Vee sling: 1,810 lbs
Manure Compost sling: 2,500 lbs

Be a business and/or farm location with easy access (close to major roads is very helpful).
Have an entrance that can accommodate a 53-foot tractor trailer (some trucks with cabs can be 80 feet long). Trucks must be able to pull safely off the main road and have room to turn around/exit.
Provide a phone number (that is answered on the day of delivery!) for directions and scheduling. In most states drivers cannot talk on the phone while driving, and they cannot play "phone tag"
Request a Quote to receive prices and shipping rates.
Submit your Order by Dec, 21st to lock in your discount!