Shipping
We have three options for shipping our products: shipping pallets and/or sling bags to your farm/business "LTL" Less-Than-Truckload, shipping a full truckload (20-24 pallets) to your location, or delivery of bulk soil/compost by the cubic yard to certain locations (see below). You may also pick up your order at our Montpelier, VT site.
Bulk Delivery
Bulk Delivery in Vermont via Dump Trucks or Live Bottom/Walking Floor tractor trailers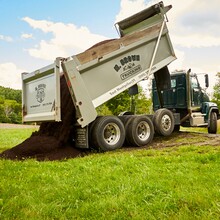 We can arrange for bulk soil and compost deliveries to every town in Vermont. We contract with local trucking companies that can carry 1 - 40 yards of soil, depending on the size of the truck, weight of the soil, and accessibility to your location.
The turnaround for bulk deliveries varies from season to season. Bulk deliveries can be delayed due to driver availability, the weather, and the resulting road conditions (especially dirt/mud roads, which are often posted in early spring). Whenever possible, we encourage ordering and accepting your bulk compost in the fall to avoid mud season and posted roads.
Bulk Delivery to MA, ME, NH, RI, CT, NY, and PA
Our contracted companies accept orders of 20 yards or more for deliveries outside of Vermont. We currently can only ship bulk soils to the states listed above. We are not authorized to ship internationally, including to Canada and Mexico. If you do not want or need 20 yards, or live outside of the states listed above, please see the next section which outlines our pallet and 2 yard sling bag options.
Less-Than-Truckload Shipping
Shipping Pallets of Bags and 2 Yard Sling Bags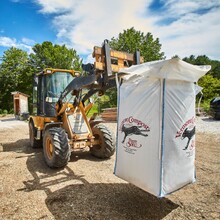 Our contracted companies ship "LTL" Less-Than-Truckload orders to most locations in the continental US. The minimum for delivery is 1 pallet or one sling bag, and we do not mix product types on a pallet or sell partial pallets.
A pallet is either a 2 yard sling bag or a full pallet of bags. We have the following bag sizes:
6 quart - 270 bags per pallet
20 quart - 80 bags per pallet (the largest size option for Manure Compost)
40 quart (Perennial Blend only) - 40 bags per pallet
60 quart - 27 bags per pallet
We have set shipping rates throughout New England. Please contact us for details.
For all other states, we must quote the shipping rates per order.
Shipping rates are based on quantity, weight, location, and services needed.
In general, the shipping cost per pallet decreases when more pallets are shipped to one location.
Delivery and Unloading
To accept delivery of a pallet or sling bag, your location must be a farm/business address that can accommodate a 53' tractor trailer. The trucking company cannot ship pallets or slings to residential addresses. You must have equipment to unload the pallets or sling bags. Your tractor, loader, or skid steer must have forks and be capable of handling the weight of the pallet (1500-2500 lbs.) from the height of the back of a tractor trailer.
If you are unable to unload your order, we can order the liftgate service for an additional fee. The truck driver will unload the pallets with the liftgate (a mechanical tailgate) and get them safely off the truck. They will not move the pallets to another location on your farm. We cannot order a liftgate for orders of 6 or more pallets. There are additional weight restrictions for manure compost pallets.
Full Truckloads
For orders of 20-24 pallets, we offer full truckload shipping. This ensures the lowest shipping price per pallet. Weight restrictions apply to slings of the Manure Compost.
Individual farms/businesses can order full truckloads, or multiple farms can coordinate a group order for a full truckload. We encourage group orders to keep shipping costs down and provide connections between local farms. Regional listservs, farming organizations, and existing social connections are all great places to look for farms to join a group order.
To coordinate a group order, one farm/business must volunteer to be the host. This farm/business will be responsible for:
Organizing all order details, including the number and type of pallets and the shipping location
Serving as the only point of contact for Vermont Compost Company and the shipping company
Paying for the order in full on one invoice
Receiving and unloading the order following the below guidance
To accept a Full Truckload you MUST:
HAVE A PALLET JACK. All full truckloads will be delivered in "dry van" enclosed tractor trailers. You will be responsible for moving each pallet to the back of the truck so that it can be lifted out by your tractor. WE DO NOT LOAD FLATBEDS.
Have a tractor, loader, or skid steer with forks, or a forklift that can lift your order from the back of a tractor trailer (approximately 5 feet high).
LIFTGATES ARE NOT AVAILABLE for full truckload shipments
Understand that it is the host's responsibility to unload all of the pallets or slings from the truck (drivers do not assist).
Be a business and/or farm location with easy access (close to major roads is very helpful).
Have a driveway or entrance that can accommodate a 53-foot tractor trailer (some trucks with cabs can be 80 feet long). Trucks must be able to pull safely off the main road and have room to exit and turn around (if needed).
Provide a phone number (that is answered!) for directions and scheduling. In most states drivers cannot talk on the phone while driving, and they cannot play "phone tag."
Be patient and flexible. Shipping is not an exact science and there are many variables impacting deliveries. We try our best to work with our brokers and drivers to schedule loads that work best for the host farm, but because of increased trucking limitations and pressure to keep fees as affordable as possible, we sometimes have to take options that may be less than ideal. Delivery times cannot be guaranteed.
Ready to place your order?
Please utilize our QUOTE or ORDER forms to inquire about pricing and availability.